Bengaluru has many names like the garden city, silicon city, biotech city, etc. Its population is increasing every year, and it has vibrant life, generous people, layers of history and rich culture.
There are around 8.5 million people in an area little more than 3000 square miles. Bengaluru Nagara (Bangalore Urban), Bengaluru Gramantara (Bangalore Rural) and Ramanagara districts makes up the Bangalore Metropolitan region.
The above map prepared by the erstwhile Bangalore Agenda Task Force shows all the taluks (subdivision of districts). 6.5 million people live in the pink, green and purple (map) areas. A separate box below shows the Bangalore Urban district. This is the Bangalore Urban district, where you will hang out the most.
This is where most tourist attractions are at. The other two districts are mostly agrarian economy and industries of the primary sector, but that's changing with public and private investments. Most tourists and backpackers miss Bangalore and head off to Mysore, Kerala or Goa, treating this as a pit stop. But there's a lot to see and do.
Pre-Travel Guide
Bangalore is a huge city and there are many transport hubs that serve the city. Here is the list of them for you to learn before you pack your bags to Bangalore.
Getting into Bangalore
Bangalore is an important city in South India and there are lot of government and IT organizations here. There are many ways you can arrive in Bangalore.
The international airport was opened to air traffic in May of 2008. The airport is to the North near Devanahalli, about 30 kilometers from the city. From here you can take:
Vayu Vajra buses: Bengaluru's transport corporation runs Vayu Vajra buses (Diamond in the air) buses from the airport to different places within Bangalore. (₹100 – 250). See this graphic for bus routes and price from the airport to your destination.
Taxis: Taxis are the most expensive option and you can hire them outside the terminal to get to the city. (₹500 – 2500)
Inter-city buses: Karnataka's inter-city transport corporation, runs direct inter-city luxury buses to Mysore (₹739) and Kundapura (₹1096) from outside the terminal.
2. Train stations in Bangalore:
There are four major railway stations in Bangalore and there are many online booking platforms that will give you almost accurate timings.
Bangalore City Junction (code: SBC/KSR): Krantivira Sangolli Rayanna station is the main train station and is an important junction in South India. Situated in Subashnagar (Majestic), they have direct trains to most big cities in India.
Yeshwantpur junction (code: YPR): This was made operational to lighten the load of the main station. Some of the long-distance trains originate from here. 'Howrah Express' to Kolkata for example.
Bangalore Cantonment station (code: BNC): Situated at Vasanthanagar, this was built by the British to operate between here and Chennai (Jolarpetai), it is well connected today.
Krishnarajapuram railway station (code: KJM): This station serves the eastern part of Bengaluru and is near to the International Tech Park (ITPL), and Whitefield.
3. Bus stations in Bangalore:
There are mainly three inter-city bus stations in Bangalore city. It takes about an hour for the buses to reach the stations once they enter the city.
Kempegowda bus terminus: It is located opposite the main train station, in Central Bangalore. Buses to many places to North, West Karnataka and Maharashtra originate and terminate here.
Shantinagar bus station: Situated close to Lalbagh, this station has KSRTC buses to Andhra Pradesh, Kerala, and Tamil Nadu. There are also TNSTC, SETC buses to Tamil Nadu, and APSRTC buses to Andhra Pradesh operating from here.
Mysore Road Satellite bus station: It is located on the Mysore Road near the Gopalan Mall. All the buses to Mysore originate and terminate here. There are buses to parts of Kerala and Tamil Nadu.
Getting Around
The people of Bangalore have a choice of travelling in multiple modes of transport or sometimes one in rare cases. Here is the list of transport options.
1. Bangalore Metropolitan Transport Corporation:
Traveling in BMTC buses is slow but reliable. Buses connects the city well. However, traveling long distance take time and you may need to change at least two buses.
There are AC and non-AC buses. They also run Bangalore Darshan buses every day from the Subashnagar (Majestic) bus station. Subashnagar (Majestic) is a transport hub where long distance inter-city trains and buses, local buses, and metro is available.
Krantivira Sangolli Rayanna train station (inter-city trains) → B.M.T.C. bus station (city buses) → Kempegowda bus terminus (inter-city buses) → Nadaprabhu Kempegowda metro station (rapid transit)
2. Namma Metro:
Not as extensive as Delhi or Mumbai, but it could be of great help. It will not get you off the beaten path, but it works. You can buy a single ticket or a pre-paid value card called Varshik (₹150) at the counter at any metro station.
Traveling with a card will be 15% cheaper. Even if you stay for a few days, this card may come in handy. It operates between 5 AM to 11 PM everyday.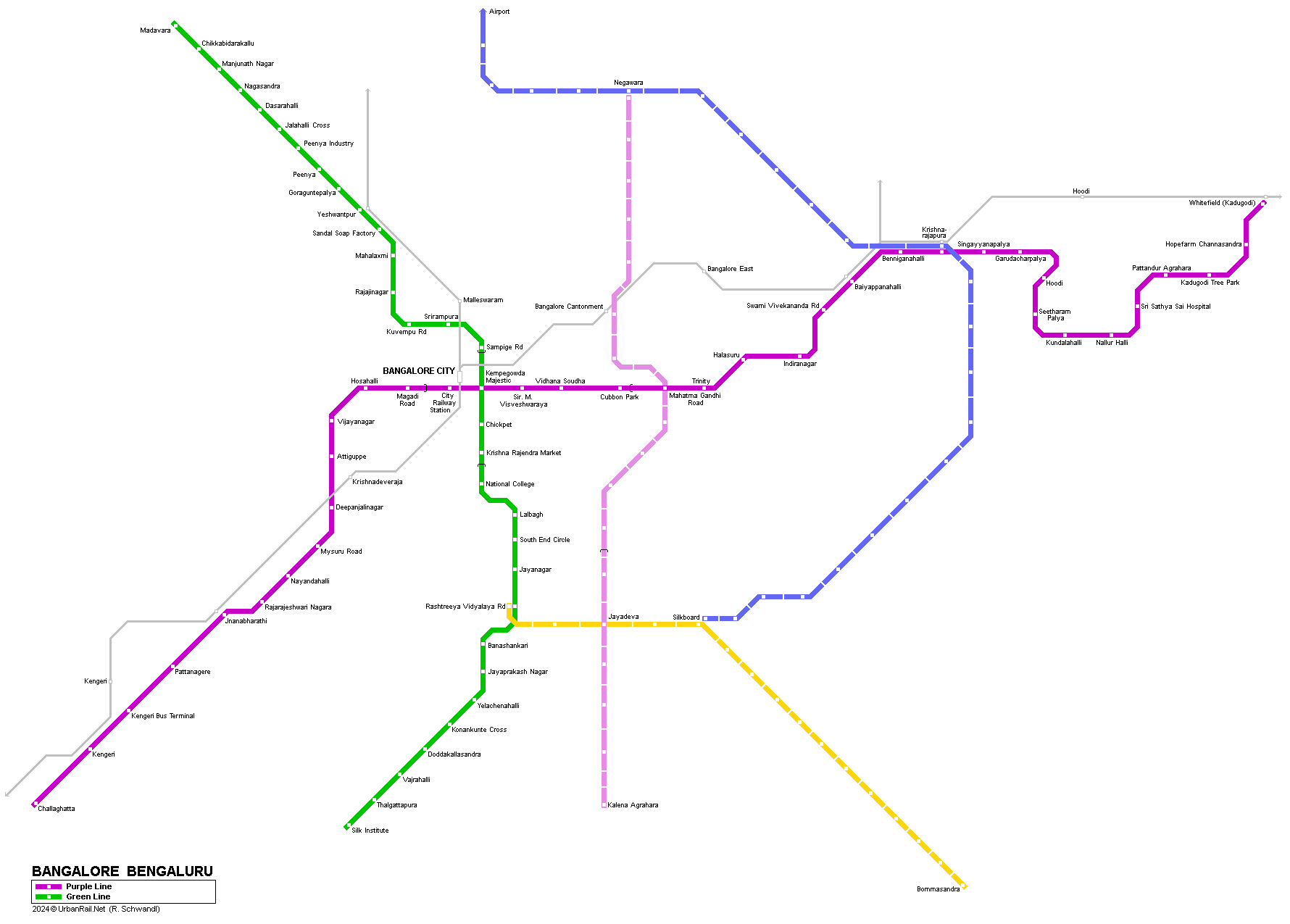 Source: Urbanrail
3. Taxis:
There are many taxi companies in Bangalore. Few of the taxi companies in Bangalore are Ola and Uber. Wiwigo and Savaari for intercity travel, and Zoomcar for hiring cars that you will drive yourself.
4. Auto rickshaws:
There are many in Bangalore and they may over charge you if you don't negotiate the price before the journey. There are companies you can rely on like Peace Auto, Ola, mGaadi, Autowale and they have fixed price.
5. Walk:
This works well if you do it in shopping districts. Eat street food and click pictures while doing it.
Helpful Kannada words
These may come in handy and will help you win friends:
Namaskaara = Hello
Chennagiddeera? = How are you?
Nimma hesaru yenu? = What is your name?
Idakke eshtu? = how much does it cost?
Restaurant/Hotel yellide = where is this restaurant/hotel?
Chillare illa =I don't have change
Jaana = Good boy/girl
People in Bengaluru
While Kannada speakers are the largest community, they are not the absolute majority. Most people are immigrants and descendants of immigrants. Most people speak English and it is useful if Kannada is not your first language.
It does not matter whether they cannot speak English or Hindi because they will attempt to understand you and speak to you in a smattering of English or Hindi they know. Autorickshaw and taxi drivers can speak some Hindi or English. If you can understand them, they are willing to discuss how their day is going.
Being a strategic importance militarily, military men have lived here. The Cholas, the Kings of Vijayanagar, the Marathas, the Mughals and the British have got to live here after their military conquests in the region.
In the 17th and century, Kempe Gowda and the Mysore Maharaja invited cloth merchants, potters, weavers from the kingdoms speaking other languages like Telugu and Tamil to live here and sell their stuff and it became a hub for trade.
While the Mysore Maharaja brought in the rich Tamil and Telugu merchants, the British brought in people from the labor class when they set up their barracks in the Cantonment area.
In today's Bangalore, there is big presence of the Tulu community, the Anglo-Indians, the Sindhis, Tibetans, Chinese, East Asians and the Europeans. The best result of immigration is the food.
Food in Bangalore
This city has its share of fine dining restaurants with great décor that has a dedicated and trained staff serving you a full course meal. Casual dining restaurants offer moderately priced food.
Pubs, lounges, bars and microbreweries serve alcohol with premium pricing and off course, the food court in malls, offices and the airport that serve people a quick meal. There are quaint little cafes that serve juices, tea and coffee. You can also use:
Food Carts: These roadside carts serve quick eats like omelettes, dosas, idlis, gobi manchurian and chats. Some of them serve hygienic food.
Darshinis: Ah! Bangalore's most popular choice . These are quick service restaurants that serve rush hour crowd with popular breakfast items like idli sambhar, coffee and juices.
You finish your meal while standing at a table if you can quickly occupy space. They serve delicious and inexpensive food. Even better if you are an entrepreneur who is not funded yet and are on budget.
Military Hotels: Back then, after taking Bangalore, Maratha soldiers and military strategists would meet at these eateries to discuss their next military campaign. They are called hotels even though they are restaurants and they serve only non-vegetarian food.
Food Trucks: Previously, there were noodles, biryanis and '99 varieties dosa' served off minivans and autorickshaws. But food trucks with eye-catching colors are booming. They serve everything from Chicken Steak Burger to Lassi. Lequirk, Folomojo and Zoomcar has made a list.
Some of Bengaluru's Favorite
Idly Vada Sambhar: This is a combination of steamed rice cake with donut-shaped snack made from the urad dal paste and fried in oil. They may have some pepper corns, curry leaves and green chili bits. Two idlis and one vada, with red spicy hot sambhar that is Bangalore's favorite. (Recipe)
Benne Masala Dosa: Rice pancake that is made on a huge hot pan. Dough is poured on the pan and let to bake, it is smeared with red or mint chutney and filled with stuffing made of potato, onions and spices.
The best ones are crispy on the side and fluffy at the center. Benne (butter) is smeared on the dosa. It is to be eaten with the same chutney it was smeared with and some spicy red vegetable curry. (Recipe)
Rava Idli: Because of rationing and shortage of rice during world war two, M.T.R. in Bangalore came up with the rava idli. This idli is made of semolina filled with spices. It is served with coconut chutney and some vegetable curry. (Receipe)
Chow Chow Bhaat: First Half: The upma – with the spices, vegetables coriander, curry leaves mixed in semolina.
Better Half: The better half is the kesari baath which is the sweet version of upma. It is nothing but semolina mixed with sugar, raisins, cashew nuts and ghee.
While upma is a popular breakfast dish on its own, its sweeter partner accompanies it sometimes and it is the better that way. (Recipe)
Filter Coffee: We owe it to Baba Budan who gave us this beverage. Arabica, robusta, whatever that gets office work done. Drip drew South Indian coffees are never overrated.
It is made of milk, sugar or jaggery and decoction of ground coffee and is usually served in metal tumblers. (Recipe)
Rava Dosa: Sometimes used as an alternative breakfast, this is semonila, prepared in a batter and poured onto the pan. (Recipe)
Bisi Bele Bhaat: Translated to hot lentil rice, the best thing that happens to rice. Spicy masala, ghee, vegetables, curry leaves and lentils are boiled in water, and then rice is put in the boiling mixture. It is usually served with potato chips or boondi or both. (Recipe)
Bajji, Bonda & Pakoda: Crispy tea time snack in South India that are deep fried. They are served to guests, eaten when it's cold or after rain. It's like this, when it rains, you must eat them pakodas. (Recipe)
Avarekalu Dosa: Winter beans or Hyacint beans is mixed with dosa dough and make into this pancake that is eaten with coconut chutney. (Recipe)
Gobi Manchurian: Deep fried cauliflower florets that is not ethnically Chinese is served every street. They are usually dry but restaurants serve gravy too. (Recipe). There are also manchurian made of baby corn, paneer and vegetable. Non-veg variety includes chicken, fish and egg.
Sakkare – Khara Pongal: Khara pongal is the watery rice preparation spiced with pepper, chili and mustard seeds. Sometimes, curry leaves and cashew nuts are added.
Sakkare pongal is made of rice, raisins, cashew nuts and ghee. These two dishes are served together and the khara pongal is accompanied by raita. (Recipe)
Shaavige: It is nothing but thin rice noodles that is cooked with spices and vegetables. If can also served with coconut milk to make it sweet. (Recipe)
Biryanis: Andhra Chicken Biryani is popular. Not limited to only this, there are roadside stalls and restaurants that have variants. Usually made of basmati rice, it is cooked with vegetables, eggs or meat. Read these lists by Brownpaperbag, Brewchew, Gyanlab and Culturetrip.
Ragi mudde – Koli saaru: Ragi mudde as seen in the picture is nothing but steamed ragi flour with boiling water, this mixture is rolled into a ball.
While this is a healthy, it is not often eaten alone. The most popular accompaniment is curry, be it chicken, mutton or vegetable. (Recipe)
If you please, you can mix it with buttermilk and have it as a drink, or with hot milk too.
Full Meals – Vegetarian: This is a South Indian thali that often has rice, curry, chapati, curd rice and a sweet. The non-vegetarian version varies in different South Indian states.
Further in this guide, you will see names of restaurants that need visiting. However, you can visit Corner House ice cream, Kalmane Coffee, Cafe Coffee Day, and Egg Factory in any part of the city and the food is equally good everywhere.
Staying
There are plenty of hotels, inns and guest houses. The best part of traveling should be staying with the locals, eating with them and if you please, travel with them.
→ Airbnb, Booking.com and Agoda have listed some cool places to stay.
→ Top backpacking hostels in Bangalore – Electric Cats Bed & Breakfast, Construkt Hostel (Indiranagar, Koramangala), AAO hostel, Social rehab (Indiranagar, Lavelle road)
Guide to Bangalore Neighborhoods
The neighborhoods mentioned below are those that tourists go to frequently. I have also given travel details and safety scores for each neighborhoods. But, travel cautiously and travel with friends at all times. Keep your cell phone and necessary phone numbers handy.
Central Bengaluru (ಕೇಂದ್ರ ಬೆಂಗಳೂರು)
The center of government, business, and culture, there are people everywhere because of the umpteen number of government and private offices. Traffic policemen may stop you when a government convoy passes by.
You may see protests, marches, political events and for sure insane traffic during rush hour. Depending on where you are in central Bangalore, you can get to interesting places, restaurants and nightlife. This is probably where you will stay.
Bengaluru pété (ಬೆಂಗಳೂರು ಪೇಟೆ)
Safety score – 3.6/5
One auspicious morning in the 15th century AD, four people, each controlling a bullock cart with a plough, drive in four different directions at the instructions of Kempe Gowda, drawing a line in four different directions.
The line from East to West became Chikkapete Street, and the line from North to South became Doddapete street. Kempegowda built a fort and surrounded it with a moat.
This area has crammed spaces, old buildings and narrow streets. It is a hub of activity in the evenings and there are cars, trucks, people and bicycles fighting for space on these narrow streets.
This is where the elites of the ooru (city) lived. It is in the middle of the crowded New Thagarupet area. Kempegowda built this oval fort and had mud walls, it was later strengthened with stones by Tipu. There is a shrine dedicated to Lord Ganesha.
In the "Battle of Bangalore" in 1791, Lord Cornwallis's army breached the fort. The breach is marked today and it can be seen from the outside. There is a small dungeon in the fort. There was once a mint, a foundry to build Tipu's war machines like the cannon, musket barrels and rockets.
After Tipu's death in 1799, the fort became an office + garrison for the Brits. Today, only the Delhi Gate along with two bastions stand. Most of the fort has been dismantled and the stones were used to build the Minto Eye Hospital and Victoria Hospital.
8:30 A.M. to 5:30 P.M. everyday;  K.R. Market
Tipu Sultan's summer palace, "Rash-e-Jannat" or "envy of heaven", was part of the Bangalore fort. This two-storey building was once a huge edifice with teak pillars balancing the ceiling.
Tourists today see only a small section of the palace. The palace walls and ceilings were painted back then, but today it is painted black. The Mysore Maharaja gave it to the British who used it as their office from 1831 to 1868.
There is a small museum on the ground floor that gives us a glimpse of the 18th century Bangalore. Next to the palace walls is the Kote Venkataramana Swamy Temple, built by Chikka Devaraja Wodeyar in the 17th century.
8:30 AM to 7 PM;  15 for Indians, 200 for foreigners and 25 if you are a camera;  K.R. Market
Chikpété (ಚಿಕ್ಕಪೇಟೆ)
Safety score – 3.6 – 4.2/5
Chikpet supplied silk to the Mysore royalty, it is now recommended for people who want to buy silk sarees and gold jewellery. But this place is not just about clothes.
It is one of the commercial districts of the erstwhile Kingdom of Mysore, still is today. The narrow and congested streets have wires and cables hanging. Traders sell steel and plastic utensils. Most delivery services buy their packaging materials from here.
While cloth material is bought from here by cloth entrepreneurs, there are shops where sarees, lehengas and men's and children's wear can be bought. Sudarshan Store, Mysore Silk Emporium, Kalamandir, Kancheepuram S.M. Silks, and Kuberan Silks are few of the popular stores in Chikpete.
The Adinath Jain Temple here belongs to the Swethambara sect and was constructed in 1878.
In 1928, Sir Mirza Ismail, the Diwan (Prime Minister) of Mysore inaugurated the Krishna Rajendra Market and opened it for the people of the Kingdom of Mysore.
Vendors sold vegetables, fruits, flowers, spices, mud pots and copperware here and they still do.
Next to the KR Market is the Jamia Masjid, that is five storeys high with minarets around. The mosque can hold up to 10,000 people. There is a school at the basement that teaches children in English. You probably want to get on the flyover for a full view.
Cantonment (ಕಂಟೋನ್ಮೆಂಟ್)
Safety score – 3.4/5
The Brits wanted a place in Bangalore to call their own because of favorable climate. The Mysore Maharaja gave them land where they could build it. Most of all it was mosquito infested.
Eventually, a cantonment with offices and garrisons came up. Today it is where tourists come to hang out, buy stuff, drink beer and all.
This is a 120 hectare garden that came up in 1864. Painted red is the colonial era building called the Central State Library that stands in the middle of the park. There is Bal Bhavan next to it that has rides for children.
Many events take place inside the park. This is also a place where artists hang out. Walkers and joggers come here in the mornings and the evenings.
 Dr. B.R. Ambedkar, and Cubbon park metro
Completed in 1956, this is the state legislature building and has an impressive flight of steps built using Dravidian architecture. It is enormous and a pride of Bangalore. Kengal Hanumanthaiah, the first chief minister of Karnataka commissioned the construction.
It took four years to build, until which the Karnataka government was operating from the Attara Kacheri, that was right opposite to the Soudha. There is a statue of Dr. B.R. Ambedkar near the legislature building.
Whilst Vidhana soudha is the North block, the relatively new Vikasa soudha was built a decade ago and has more government offices. However, no one is allowed inside unless you made an appointment to meet a minister or an officer, which is probably when you want to get something done.
All day, but lit during 6 PM to 8:30 PM;  Dr. B.R. Ambedkar
Built in 1868 for the British administration as an office, it is today the High Court of Karnataka. It is a classical Pompeiian red building opposite to the Vidhana Soudha. Because the building had offices for eighteen administrative departments it was called Attara kacheri
Visvervaraya Industrial and Technological Museum was established to commemorate engineer-statesman Sir M. Visvevaraya on his 100th birthday. Sir M.V. lived beyond the inauguration of this museum until 1962.
There are five storeys and each floor is dedicated to a discipline of science and there are many scientific exhibits and engines. You can touch and try most of them.
10 AM to 6 PM;  50;  Cubbon park
Situated at Kasturba Road next to Cubbon Park and the VIT Museum, the building was designed by Colonel Sankey. The two-floor museum has various sections namely, geology, natural history, the arts, numismatics and sculpture. Some exhibits dates to 5000 years ago.
Venkatappa Art Gallery has artworks created by K. Venkatappa, Raja Ravi Varma, KK Hebbar and others. The building is impressive and exhibits paintings and sculptures in three floors.
10 AM to 5 PM. Closed on Mondays and public holidays; 10 for adults and 5 for children;  Cubbon Park & M.G. Road.
M.G. road
Safety score: 3.6/5
Mahatma Gandhi road, the erstwhile South parade ground stretches to three kilometers. Many banks have their city branch over here.
There is brigade road and church street nearby and there are restaurants, theaters, quaint cafés here.
 Koshy's, Empire Restaurant, Indian Coffee House, Coconut Grove, The Only Place
 Blossoms, Higginbothams, Gangaram's Book Bureau
 Cauvery Handicrafts Emporium, the whole place actually
 Watch a play at the Rangoli Arts Centre
Established in 1808 and consecrated as a cathedral in 1947, St. Mark's was one of the first buildings to come up in the cantonment area. After construction only the English soldiers and offices were allowed to worship here.
Weekdays: 9 A.M. to 1 P.M. & 2 P.M. to 5:30 P.M. & Saturdays: 9 AM to 5:30 P.M.
Shivajinagar (ಶಿವಾಜಿನಗರ)
Safety score: 3.8 – 4.1/5
First called Kappusandra and then Blackpally, it came up next to the Cantonment area to house the Tamil people that worked in the Cantonment and to house the tannery and butcher industries.
Today it is a transport hub that connects North Bangalore with Central Bangalore. There is always people here who come for the food and wooden furniture. This place is a synonym for religious harmony. While at Shivajinagar, shop at the Commercial street and go on a food trail.
While KR Market served the needs of the people in the city near the fort, the Russel market, built in 1927, served the needs of them living in the cantonment. Not far away from the market is the St. Andrew's church.
9:30 AM to 9 PM;  M.G. Road
People living in Blackpally (Shivajinagar), following the Christian faith, did not go to St. Mark's. So, St. Mary's chapel was raised in 1882 by Abbe Dubois, a French architect.
Mr. Dubois was very much interested in the community that lived in the Blackpally and the people of the community loved him.
6 AM to 9 PM;  Cubbon Park
Ulsoor (ಹಲಸೂರು)
Safety score: 3.3/5
At the instruction of Kempe Gowda, Ulsoor hosts one of the biggest lakes in Bangalore. Expensive place to have a home these days, there is boating to the island in the middle of the lake and the army has a training facility in this area.
The bank of the lake is also the site of the Kempe Gowda tower. It is not entirely visible from the street, but it is said that there is a bell with Chinese inscription on it that the thambis (soldiers) of the Madras Regiment took from a temple in Nanking during the Opium Wars and brought to St. Thomas Mount.
It was later shipped to Bangalore Cantonment and was placed here.
Urban Solace – for poetry on Tuesdays and occasional fiction readings, Ente Keralam and Carnival de Goa.
This white building is the first thing that catches your eye when you enter Ulsoor from M.G. Road. This is the biggest gurudwara in Bangalore and is situated on the banks of Ulsoor lake. Langar is held every Sundays and you can also take the time to serve food.
Anytime; Langar: 11 AM to 4:30 PM & 7 PM to 11:30 PM on Sunday;  Trinity.
While the Halasuru Someshwara temple was built by the Cholas and is dedicated to Lord Shiva, the Subramanya temple is said to be built 800 years ago and was frequented by the Mysore Kings.
6AM to 12 PM & 5:30 to 8PM;  Halasuru
Home of the Roman Catholic archdiocese of Bangalore, it was constructed in 1930. There is a large central dome and a twin domed tower. There huge prayer hall, there are paintings and statues of saints.
South Bengaluru (ದಕ್ಷಿಣ ಬೆಂಗಳೂರು)
South Bengaluru has a mix of traditional and cosmopolitan Bangalore. While Jayanagar, Basavanagudi, Banashankari has old houses, festivals, ancient temples, places like Koramangala, HSR Layout, Electronics City has high-end restaurants, hotels, technology companies and startups.
Safety score: 3.2/5
Inspired by a Mughal garden at Sira, a city Hyder Ali took, he set up Lalbagh at Mavalli for his evening stroll and he brought in rare trees.
After Tipu inherited the park after Hyder's passing, he had exotic trees brought here from Turkey, Africa and whichever countries Tipu travelled to.
Later, a Brit named Cameron and Krumbeigal, a German oversaw its development. Spread over 250 acres today, it is used by morning walkers and joggers.
It draws in the crowd to its biannual flower shows in the months of January and then in August.
The glass house indicates that you are in the middle of the park. There is a gazebo that hosts musicians.
There is a walking track, lots of rare trees, opinionated people, photographers who wait patiently to for photo opportunities of birds huddled at the grains scattered on the ground and children who will make sure the said photo opportunities are ruined.
6 A.M. to 7 P.M. everyday; Lalbagh; Mavalli Tiffin Rooms and New Udupi Anand Bhavan
Basavanagudi (ಬಸವನಗುಡಿ)
Safety score: 3.1 – 3.9
A place of commerce and residence, it is one of the first extensions of Bangalore. It was developed before the plague, the plague that devastated life and livelihood near the fort area.
While houses were destroyed or disinfected by the Mysore authorities, lots of people died and people were segregated. They were not allowed to leave town. Railway stations were closed to people until they produced a certificate that said they were clean.
At this time, people moved to Basavanagudi and Malleshwaram to seek a better life and find work. Some of the business establishments here are in existence since then. Basavanagudi flourished in 1920s and considered as home to native Bangaloreans. Tradition takes a front seat here and so does vegetarian food.
 Butter Sponge (bakery), Jain temple, M.N. Krishna Rao park
A ten-minute walk from Lalbagh, is the Thindi Beedi or the eat street, a street lined with small shops and food carts that sell some of the tastiest vegetarian cuisines.
It is crowded during the rush hour and that is when food is served fresh. While some use modern cooking gas stoves, some use charcoal.
Food is served at a low cost and is one of the top food destinations in Bangalore. While set dosa, onion dosa or masala dosa is a popular pick here or anywhere in Bengaluru, avarekalu dosa is the popular eat here.
Range of eats one can try are the akki rotti, holige, ragi dosa, idly chutney, sweets.
Any time after 6 P.M.;  Lalbagh
Situated near Basavanagudi is the Gavi Gangadhareshwara temple, where the sanctum is in a gavi (cave). A ten-minute ride from the Thindi Beedi, it is in a quiet neighbourhood of Gavipuram.
The low roof of the cave will force you to bend lower or force you to nurse that nasty bump if not.
What is cool about this temple is that the sun shines the light onto the Shiva linga inside the sanctum for few minutes or an hour, illuminating the otherwise dark sanctum, with sun rays passing through the horns of the Nandi statue outside the sanctum.
This event happens on the day of Sankranti (January 15th) and thousands of devotees get here to see it happen.
The visit is over within ten minutes but on Sankranti, you take that much time to figure out where to go.
7:30 A.M to 12:00 P.M. & 5 P.M. to 8:30 P.M.;  Lalbagh and National College
One of the shopping destinations of old Bangalore. There is crowd and noise, but there are good choices in shopping and food. Anything from an incense stick to flowers to sarees are sold here. Shopkeepers and salesperson are old school here.
They do not show frustration if you reject the choice of clothes, jewels they show and walk away. The streets of Gandhi Bazar are a flower show in the morning and in the evening. Vendors heap fruits and vegetables on hand powered carts and sell them.
 Vidyarthi Bhavan, Roti Ghar and Grand Village
Kempe Gowda got people to carve a huge stone into the idol of Lord Ganesha next to a rock where he set up a bugle.
A popular landmark of South Bengaluru, Dodda Ganesha temple gets its crowd during the evening pooja time. People bring in new vehicles for blessings and safety.
The statue of the bull at the bull temple is a monolith. Years ago few farmers witnessed a huge bull devastate their groundnut crops despite shoving him away, but the devastation continued.
Farmers decided to dedicate their groundnut produce to the bull every year, in an event called 'Kadale kai parishe' or the 'groundnut festival'. There is a huge crowd during the festival, but not as much the rest of the year.
Also hang out at the Bugle rock park that also hosts other temples for Shiva and Yellamma. A bugle in this park sounded an alert during an attack in the city.
6 AM to 12 PM & 5:30 PM to 9:30 PM
Koramangala (ಕೋರಮಂಗಳ)
Safety score: 3.3 – 4.1/5
Situated to the east of Jayanagar and Basavanagudi, Koramangala transformed from 'swamp to swanky' and is cosmopolitan. There are tree-lined boulevards, luxury apartments and cafes. It is one of the start-up hubs of the city and you may find start-ups operating out of a small apartment. Some of the richest people of Bangalore and expats live here.
Forum Mall, the first shopping mall in Bangalore where the start-up and college folks hang out until there came many. Among the many shops is the Landmark. This is about books. They have the new releases and bestsellers. Sometimes they host book releases of some famous names.
Another bookstore worth mentioning is the Atta Gallatta. This is a bookstore, a cafe and an event space. You can find Kannada, Tamil, Telugu, Hindi and English language books. Like they say on their website, they deal with books and breads.
Besides books, there are other fun things you can do in Koramangala. There are many coworking spaces too.
 Punjab Grill, Chianti, Dyu Art Cafe, Thulp, Nasee and Mee and God's Own Cafe
Jayanagar (ಜಯನಗರ) & J.P. Nagar (ಜಯಪ್ರಕಾಶ್ ನಗರ)
Safety score: 3 – 3.9/5
Jayanagar and Jayaprakash Nagar are twins and you cannot tell each other apart. These are residential and commercial with shopping malls, schools and places of interests that hides among trees and houses.
Jayanagar came up after the Independence and is a stronghold of Kannadiga Brahmins. This well-planned area has tree-lined avenues, huge homes and large playgrounds.
 Ranga Shankara cafe, Al-bek restaurant, Taaza Tindi, 1947, Maiyas, Eshanya, Hakuna Matata, Fujian, Shivaji military hotel, and 24th Main
A store that is dedicated to Kannada. Movies, books, magazines and T-shirts, they have books written by S.L. Byrappa, Poorna Chandra Tejaswi, Kuvempu, Girish Karnad and Shivram Karanth to name few.
10 AM to 9:30 PM;  Jayanagar
Named after Shankar Nag, a versatile Kannada film actor, Ranga Shankara is a well-known theater that is a platform for artists to showcase their craft.
There is Kannada, English and other language plays, sabudana vada at the café and paperback bookstore.
After 3 P.M.;  R.V. Road
On top of a small hill is the ragi gudda temple, dedicated to Lord Hanuman. Both young and old visit here, to find some peace, away from traffic and chaos. The temple is named so because the main idol was believed to be formed on a gudda (heap) of ragi (millet grains). The trinity of Brahma, Vishnu and Shiva chose to remain on this heap and turned themselves into the stone hill on which the temple stands.
Everyday: 8 A.M. to 11:30 A.M & 5 P.M. to 8.30 P.M. A little longer on weekends.;  R.V. Road
There is public transport available in plenty near the temple.
Electronic City – Begur (ಇಲೆಕ್ಟ್ರಾನಿಕ್ ಸಿಟಿ – ಬೇಗೂರ್)
Safety score: 2.5 – 3/5
Hidden away behind Electronics City and neglected, the village of Begur has a history that pre-dates Bangalore. If you are commuting to work in Electronic City through the Begur village, the 400-odd year old fort will catch your attention.
On close inspection, it looks there was a town 900 years ago and a major battle was fought here. The victory stone says Buttanna Setti (a warrior) died in battle here in 'Bengavalluru', which is the first time the name Bangalore was inscribed into something. It is still here.
Kashi Vishweshwara and Gopalakrishna temples are inside the fort. There was a strong Jain heritage here and a small jain basadi is proof of it. There is a headless statue of the thirthankara here.
Not far from the fort is the complex of five temples. Of there the Panchalingeshwara and the Nagesvara are the oldest. Other three shrines are Karneshvara, Choleshvara and Kalikamateshvara. Read Lakshmi Sharath's account of her visit.
Banashankari (ಬನಶಂಕರಿ)
Safety score: 2.7 – 3.6
The biggest neighborhood in Bangalore is Banashankari with six stages and many layouts. There are many colleges, offices of start-ups, places of worship and places to eat.
The temple started after a devotee brought the idol of the goddess from Badami and installed here. Banashankari derives its name from the temple deity. The three main festivals bring many devotees to this temple.
6 AM to 1 PM & 4:30 PM to 8 PM;  Banashankari
Until ten years ago, this temple complex was outside the city. Built in a small hamlet called Vasanthapura, now it is well within city limits. This temple dates to the Chola period when Bengaluru was a forest and was supposedly called Kalyanapuri which means 'town of good deeds'.
Situated on a hillock, the temple's deity is Lord Vasantha Vallabharaya Swamy (Lord Vishnu). Local people believe that Lord Venkateswara of Tirumala stayed for a brief period here.
Perhaps the kings of Mysore knew of its existence. There is an emblem of the Mysore kings. One can spend a nice evening here. There are temples in honor of Sai Baba, Shiva and Subramanya nearby.
Yellachenahalli and Banashankari, Bus: 210R from Majestic and 210D from Banashankari
Off Kanakapura Road, not far from Vasanthapura there is the Vaikunta Hill on which the ISKCON stands tall with its modern infrastructure and glass facade. There is a nice vibe to it and is quiet and breezy at the top.
The world famous Akshaya Patra has one of their kitchens operating here and though their specially made food trucks deliver hot meals to thousands of school children in villages that are up to 200 kilometres away from this place every morning.
Safety score: 2.1
Situated off Kanakapura Road, Turahalli forest is the last remaining forest in Bangalore city. Once expansive forest, it has withstood 'development' of the area.
The top of the hillock will give you a good view of the city and the greenery behind it. The forest has Eucalyptus trees mostly.
People keen on wildlife and insects have seen Indian monitor lizard, peacock and jackals here.
Good place to birding. There is also a shrine here. Explore the forest in a group, preferably on foot or on a bicycle.
West Bengaluru (ಪಶ್ಚಿಮ ಬೆಂಗಳೂರು)
West Bangalore is the hub of traditional Bangalore and there are some of the finest institutions of India here. Over here there is also a mix of the old and new. There are many temples, shopping streets and there is Malleshwaram, one of the oldest residential areas of Bangalore.
Malleshwaram (ಮಲ್ಲೆಶ್ವರಂ)
Safety score: 3.5 – 4.2
Malgudi Days, written by R.K. Narayan is a portmanteau of Malleshwaram and Basavanagudi. The train station on the video looks like the Malleshwaram train station. Flanked by trees on both sides, the two main roads of Malleshwaram are Sampige (jasmine) road and Margosa (neem) road. 8th cross is the busiest in the evenings, vendors take over the curb and sell their wares.
Popular street eats include corn laced with chilli+salt paste, tender coconut, bhel puri and spiced groundnuts. Being a cultural hub, there are places where you can go to an auditorium to catch a play or music. There are many temples, schools and popular colleges.
 Sampige Road > take an autorickshaw
 Hallimane, Sri Raghavendra stores, Nalapaka, Kabab studio
Records say that Maratha king Ekoji, the brother of Shivaji built this temple to celebrate his victory in battle for Bangalore. The temple itself could well be at least 700 years old. Malleshwaram got its name from this temple.
7:30 AM to 12 PM & 5 PM to 8:30 PM;  Sampige Road;  Malleshwaram 15th Cross
Near the Kadu Malleshwara temple, another temple that draws in a huge crowd is Sri Dakshinakukha Nandi Tirtha Kalyani Kshetra. The locals discovered this recently and accidentally. Until then it remained under the Earth.
Shrouded in mystery? Yes, Is it over 7000 years old? Unsure. At the center of the stone courtyard, there is a Shivalinga cut from the same black granite as the Nandi idol. Stone pillars support the courtyard and there is a pool of water in the middle of the courtyard.
Said to be an example of ancient hydraulic engineering, there is the Nandi at the end of the courtyard and water pours out of the mouth of the Nandi and falls on the Shivalinga. They are yet to determine the source of water.
7:30 AM to 12 PM & 5 PM to 8:30 PM;  Sampige Road;  Malleshwaram 15th Cross
Created in 1997 and maintained by the International Society for Krishna Conscious, this Krishna temple is at the top of the Hare Krishna Hill. Built using modern methods, the huge hall is where the marble idol of Krishna and Radha is at. The temple tower and the flag pole has gold plates on it.
Hare Krishna volunteers chant Vedic mantras everywhere in the premises. There are souvenir shops, a guesthouse, a hall where people chant Vedic and a Dwarakapuri Hall that hosts wedding ceremonies.
Devotees attend pujas and aartis early in the morning at 3:30 A.M. and at 7 A.M., when the conch shells blow, that is the signal that the hall is open to the public for darshan.
7 A.M. to 1 P.M. & 4 P.M. to 8:30 P.M.;  Mahalakshmi
Sadashivnagar (ಸದಾಶಿವನಗರ)
Safety score: 3.1
An upscale neighbourhood, it was converted into a residential area after the Wodeyars of Mysore put up their palace garden for sale. Today there are homes of film stars, politicians and businessmen. Some of the notable names include Dr. Rajkumar, B.D Jatti, S.M. Krishna, V.G. Siddhartha, H.D. Deve Gowda and Kengal Hanumanthaiah.
Col. Richard Heiram Sankey of the Madras Sappers Regiment, the same Sankey who built the Attara Kacheri, built this man-made tank. There is a quaint little park which is good to hangout in the evening or read a book.
6AM to 8PM; 10 for an adult, 5 for a child, 20 for boating; Sampige Road > take an autorickshaw
Named after T. Chowdiah, inventor of the seven-stringed violin, it is one of the popular cultural hubs of Bangalore. It hosts theatre festivals, music concerts, dance performances and other shows. The hall is in the shape of a violin and one can view its shape from up the Sankey Road.
Built like a tudor castle, Bangalore Palace initially was built to serve as a hotel, but then the Maharaja of Mysore bought it as his residence. The palace is open to public.
The 30,000 paintings show the history of the Wodeyars and Bangalore. Many Kannada and other movies features this palace. The Wodeyars still have a residence there.
10 AM to 5:30 PM; 250 for Indians, 250 for foreigners, 700 for still camera, and 1500 for video; Cubbon park
An institute for visual arts and culture. The campus has 18 art galleries that showcases paintings, sculptures and folk arts. It began in 1960 and the students learned painting, sculpting and art history. Now people can pursue advanced studies in art. Chitra Santhe, an annual event happens here.
10 AM to 7 PM;  Kumara Krupa Road
This art museum is in an old building and it gives a purview of various forms of paintings and other forms of art. There is substantial collection of paintings by Jamini Roy, Tagore, Ravi Varma. There are trees outside the galleries and is a delight to walk in the garden. The 180 seater auditorium hosts cultural and art related events.
6AM to 8PM;  20 for Indians and 500 for foreigners;  Halasuru
After some extensive research, Jamshedji Tata decided that Bangalore should be the location of the IISC, where some of the brilliant minds can be educated and scientific progress could be achieved without interruption. After receiving the blessings of the Mysore Maharaja who wanted the Kingdom of Mysore to be a scientific and a knowledge capital, the institute was set up in the 1911 on the land he received from the Maharaja.
Even if you are not a nerd, take a walk in this tree-lined campus with beautiful gardens, the Gulmohar trees and some birdlife. There may be some events or talks you could attend where non-nerds are invited.
9 AM to 5:30 PM only on weekdays;  Yeshwantpur
East Bengaluru (ಪೂರ್ವ ಬೆಂಗಳೂರು)
This is a cosmopolitan suburb of Bengaluru. Some streets of the East Bengaluru has streets with Gulmohar trees. It is a shopping haven and there is an upcoming aviation hub. There are technology parks and shopping districts scattered across east Bengaluru.
Indiranagar (ಎಚ್ಎಎಲ್ ಮತ್ತು ಇಂದಿರಾನಗರ)
Safety score: 3.1 – 3.7/5
Cosmopolitan Indirangar has large bungalows on either side of the street, trees and retail outlets. There are residences on both sides of the street. Off late, this is where food and luxury goods entrepreneur start-up. While H.S.R. Layout and Koramangala has technology start-ups, Indiranagar is a hub to non-tech start-ups like Idiom Design.
 Little Italy, Barbeque Nation, Mainland China, Soo Ra Sang, and Imli
Indiranagar 100 ft. Road & CMH road
While the 100 feet road is the main artery of Indiranagar, the CMH Road cuts across it and their junction is a site for traffic congestion. Thanks to the Purple line, you can fly. Another place where you can pub hop, shop and eat. Another reason why tourists are shifting their loyalty away from M.G. Road. There are pubs like Toit and bookshops like Crossword and Gangarams. There is a Sapna bookstore off the 100 feet road.
Hindustan Aeronautics Limited (H.A.L.) has made Bengaluru, the aeronautical capital of India.
Industrialist Walchand Hirachand set up Hindustan Aircraft in the year 1940 here, to use the scientific talent supplied mostly by the IISC.
During the war, the allies used the airfield and its hangars for aircraft repairs. After the nationalization of H.A.L. they have had many successes.
H.A.L. created the LCA and the ALH here. The small airfield operated as a domestic airport. When the new airport at Devanahalli came into operation, the  air force took over the place.
There is a museum on the H.A.L. road that details the success story of H.A.L. and there are life size models of H.A.L. aircraft.
9 A.M. to 5 P.M. everyday; Rs.20 per head;  Indiranagar
Whitefield (ವೈಟ್ ಫೀಲ್ಡ್)
Safety score: 2.9
Formerly a 50-house village for white people, today the traffic jams are so bad, that you can reach Mysore before you can reach Whitefield. An establishment for the Anglo Indians and Europeans, this settlement was built on a land granted by the Mysore Maharaja, it is today a technology and commercial hub, and a cultural and entertainment center. There are interesting things to do that's hidden away.
 Windmill Craftworks, Herbs n Spices, 153 Biere Street, Salt Mango Tree
Other tips
1. Attend a festival
There are religious, cultural, sports and art/music/film festivals. Sankranthi, Ugadi, Ramzan, Ganesh Chaturthi, Dasara, Deepavali and Christmas are some of the popular religious festivals.
Cultural festivals include Kadalekai parishe, Kannada rajyotsava and Bengaloora habba.
Bengaluru International Film Festival, Deccan herald Theater Festival, Rangashankara Theatre Festival and Chitra Santhe are amongst the popular art/films/music festivals.
2.  Shop
Sandalwood, also known as Chandana is not only used for worship but it is shaved and carved to make objects like fan, bookmark and you can buy sandalwood power that can be used for poojas.
Silk: Mysore silk is the signature silk saree of Bangalore. Not just sarees, there are silk men's wear that come in different colors. KSIC, Shantala Silks and Deepam are three of the popular shops.
Channapatna dolls: Whether you buy Channapatna dolls in Bangalore to at Channapatna, where they originate, you should know they are eco-friendly and safe. Some dolls have moving parts and that makes it fun.
Books: Books that you can read, smell and scribble on. Bangalore is a city that loves reading and there are innumerable bookstores that help you get a fix like Sapna, Blossoms, Landmark, Oxford and Crossword.
Crossword has Café Coffee Day outlets in them and there are many stores that host book releases and readings. Cha bar at Leela Palace lets you read a book while you eat a muffin.
Wine: Doddaballapur, an hour's drive from Bangalore has many vineyards that grow grapes, make and bottle wine. Grover Vineyards encourage tours to their estate sometimes.
Paintings and craft: Mysore paintings show the fine details of deities and about life during the times of the Maharajas. Shops sell Bidri works with delicately carved patterns, that comes from Bidar in Karnataka.
3. Attend a game
This city loves sports and there are plenty of sports Bangalore does well in and lot of teams to cheer for. Popular sports include:
Cricket – Royal Challengers Bangalore – Indian Premier League – Chinnaswami
Football – Bengaluru FC – Indian Super League – Kanteerava outdoor stadium
Kabaddi – Bengaluru Bull – Pro Kabaddi League – Kanteerava indoor stadium
Basketball – Bengaluru Beast – UBA pro Basketball League
Badminton – Bengaluru Blasters – Premier badminton league – Koramangala indoor stadium
4. Treks & Adventure
Grabhouse, Stayzilla, India.com and Weekend Thrill sums up pretty much every offbeat, heart-pumping stuff to do.
5. Bengaluru for kids
Buzzingbubs has plenty of information of what children and parents can do in the city including sports, arts, music, dance, schools, etc.
6. Bike or walk
Bengaluru has a lot of walkers and bikers. There are groups that will help you bike or walk in groups and take you on a tour. Art of Bicycling Trips has biking tours within and outside the city.
Bums on the Saddle has built a biking community and they have biking experts that go on professional biking tours and competitions.
7. Travel to the next town
Extend your stay and travel to nearby towns that you can cover in a day of two like Yercaud, Nandi Hills, Ramanagaram, Mysore, Hassan, Coorg and Srirangapatna.
You could visit villages and request villages to accommodate you for the night or book a room in traditional homestays.
→ Only 48 hours –  Independent has a nice itinerary.
→ Only 24 hours – Follow the shooting star or the Urban Adventures.
Bangalore offers many things that I cannot cover in this page despite living in this city for years, you may not see everything.
This guide provides list of activities for few days only. There are many magazines and locals that know a lot more.
---
Featured image source: Unsplash
Safety score: Safetipin, an organization validates how safe a person is after dark in a place, based on research.
For news and updates on this website, sign up with your email address below.