Jaffna is a nice little town, cut off from the rest of Sri Lanka for almost all of its independent history, today Jaffna is the capital of Northern Province of Sri Lanka. Being a former war zone, there was a time when it was common for people to hear bombs and bullets.
Gun battles was not a daily event and people including the rebels were fearful of fights. Fighting would break out once in a while. After battles between the rebels and the army, people had lots to talk about. Jaffna is scarred, but it is trying to catch up with the rest of Sri Lanka.
Traveling to Jaffna:
There are many trains from Colombo, Kandy and Anuradhapura. There are Chinese made blue color AC trains. Check for information on trains here. Best way to book a train is to get help from a hotel or anyone in Sri Lanka.
There are plenty of buses from Colombo, Kandy and Anuradhapura. The private buses are little expensive than the government run buses.
 Cinnamon Air runs air taxis that fly between Jaffna and major Sri Lankan cities.
Predominantly Tamil and Hindu, there is Buddhism too. The town has a different culture and the cuisine is different from the rest of Sri Lanka. There are no big businesses or organizations working here, it is predominantly rural. People go to big cities for work.
48 hours is the ideal number of hours to stay here. If you speak Tamil, you can get by. Here is the to do list.
1. Book a homestay
Jaffna is a small town with plenty of nice homestays to try if you want a budget accommodation. Jaffna is opening up to tourists since recently. People have stories to tell. So try and stay with a local. You might hear stories about their life during the war. The house I stayed at was large, had more than four rooms and there was a huge backyard with coconut trees.
2. Check out war ruins
Decades of war has left behind a lot of battered establishments and buildings here. The effect of war shows. Many buildings used by the rebels and the army is abandoned today. There is a Jaffna tour that takes you around these ruins. Jaffna is economically recovering, but ruin tours is one of important modes of income for tour companies here.
3. Eat South Indian breakfast
You booked a homestay, reached Jaffna and you get to the homestay. Whether there is breakfast at the homestay or not, you tell the host you will be back for dinner and then take off to find breakfast. Go towards the Nallur Kanthaswamy kovil and look around. There are plenty of vegetarian restaurants around. Choose a restaurant, sit on a chair and order a delicious South Indian breakfast.
Idly with sambar or nool puttu with some sauces is the food to fuel you. Too bad the restaurant I tried did not have strong coffee that Bangalore has. After lunch, drink sweet milk tea to wash it all down. Then you call the waiter, pay him and then say, "Saar, nalla irukku".
Jaffna has a small museum with a small and informative collection. It is a fifteen minute walk from the Nallur Kovil and it is located in a small street with lot of houses. Only way to tell the museum and other buildings apart is when you see a pair of cannons inside the compound.
8AM to 4PM
5. Cathedrals of Jaffna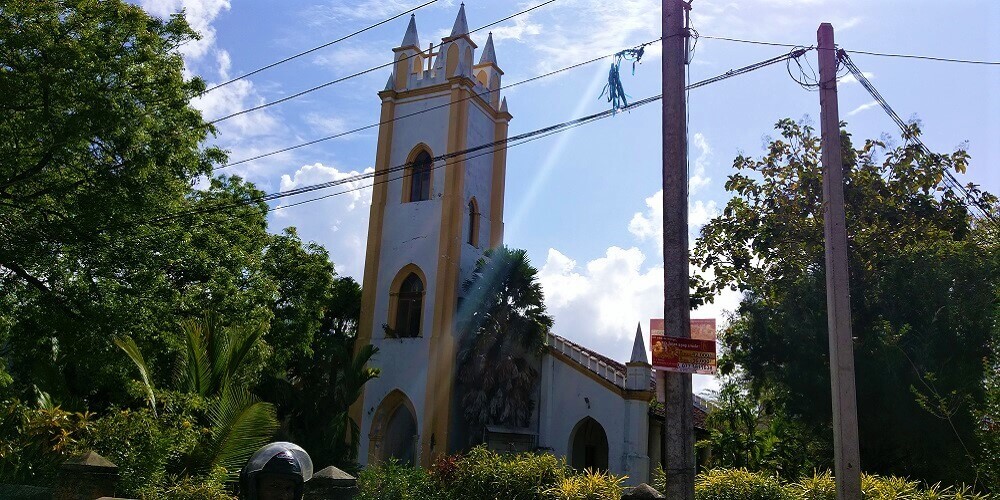 There are few cathedrals in Jaffna and is spread around the town. St. James' Cathedral is about fifteen minute walk from the Nallur Kovil. Other cathedrals to visit are St. Mary's and St. John's.
Nallur Kanthaswamy Kovil is the most famous Hindu temple in Jaffna, perhaps the whole of Sri Lanka. This temple has daily rituals in the afternoon and in the evening. Photography is not allowed inside the temple and men have to take off their shirt before entering. There are many small shops selling incense sticks and coconuts to offer to the deity.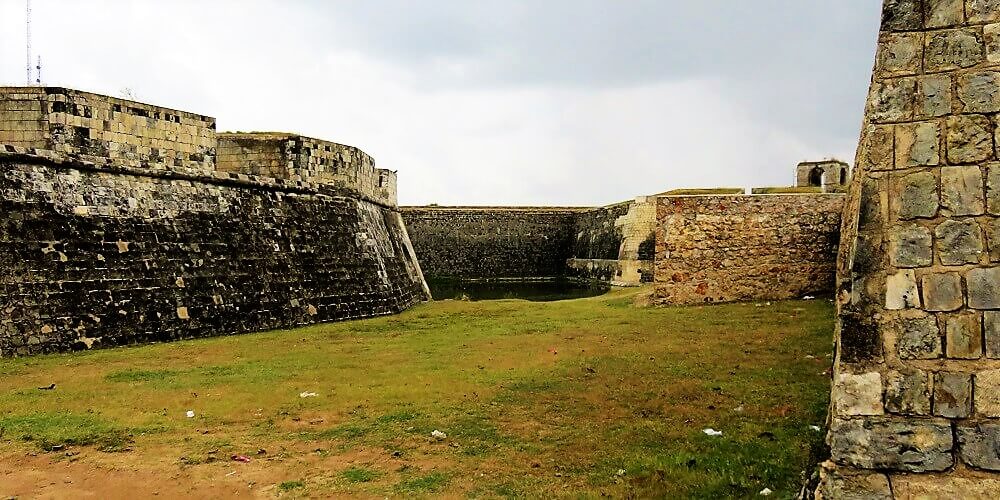 The Dutch Fort of Jaffna was built by the Portuguese. After the Dutch took the fort, Jaffna became an important hub for trade in Sri Lanka. Back in the days many battles have taken place during the civil war and the years of assault on the fort shows. There is restoration activities going on here and there are army soldiers inside.
The Jaffna library was built during the 1930s and is right next to the Dutch fort. There is a sports stadium being constructed opposite the library. This white building is one of the most beautiful buildings in Jaffna and one of the biggest in Asia. The library was burnt during the war, but it is being fully restored. Some of the books from the library was spread around many small libraries in Jaffna to protect them.
9. Eat delicious seafood
The local Jaffna food is to die for. It has a flavor different from rest of Sri Lanka and tasty varieties. Hotel Rolex is my favorite place to eat in Jaffna. and the food is great. Try and make sure you get here during lunch at 1 PM to 3 PM to get warm and delicious food.
For Vegetarians? – Try Mangos, Temple Road, Nallur. You could eat delicious South Indian meals for 200 to 400 LKR. They have great parota and idiyappam also. After lunch, head out for desserts at Rio ice cream shop. It is a short walk from Mangos.
10. Visit Point Pedro
After visiting the above mentioned places, go back to your accommodation. Sleep early so that you can wake up early to catch a bus to Point Pedro. Point Pedro is famous for the lighthouse, a church and a temple. There are lot of buses to and from Point Pedro, but the direct buses stop at 6 PM in the evening. I missed the 6 PM bus and I had to take a bus to a village on the Jaffna-Kandy highway. From there I took a Jaffna bus from there.
11. Visit the markets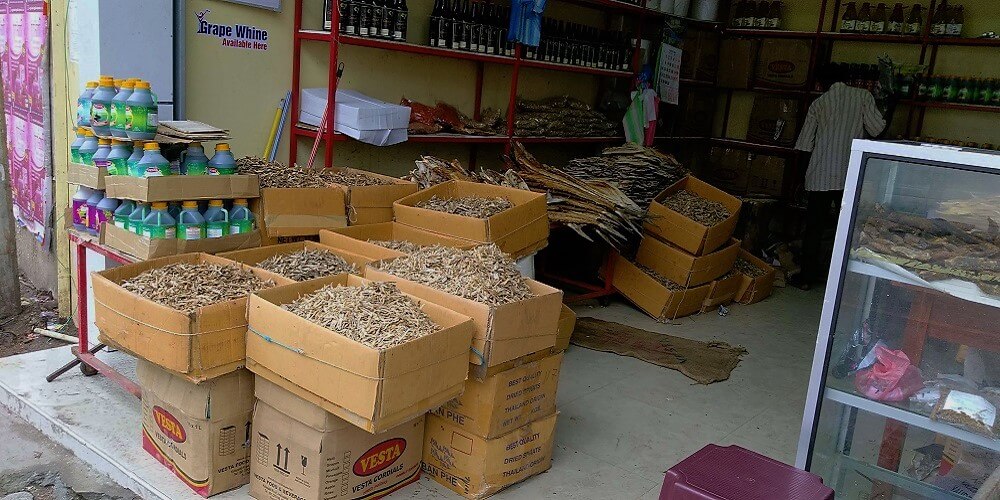 There are many small markets in Jaffna and many of them near the Jaffna Fort. The fish market on Beach Road is a busy but you can catch up on all the activities there. Early morning is a nice time to be there.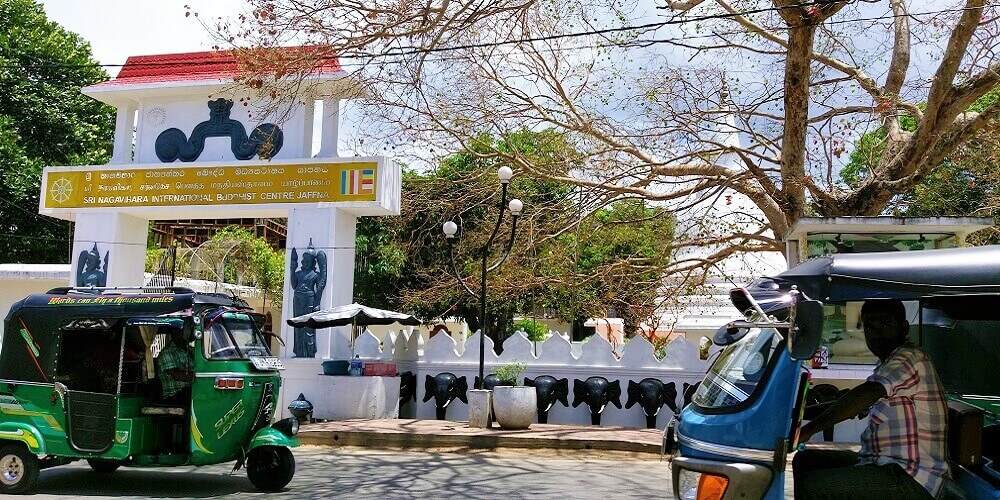 Nagavihara Buddhist temple is located on Stanley Road about fifteen minute walk from the Dutch Fort. There is a State Bank of India branch near the temple. Considering the history of the temple, this is an important place of worship. This is one of the most earliest established Buddha Vihara in Jaffna.
Bonus: There are some extra things to do if you have the time:
I did not visit this place, but the locals and the guides suggest this place to you. The island is reachable by boat and it has interesting places to visit, including a temple.
14. Have lunch at a temple
The Hindu temples in Jaffna serves delicious lunch at temples to devotees. They serve rice with vegetable curry on a banana leaf. It is free, but if you want to pay for the food, pay it in the form of donation to the temple.
There are the list of things to do in Jaffna. If you know anything else, please let me know.