You must spend more than 90 minutes in Nuwara Eliya, the coolest little town in Sri Lanka. Imagine, you can drink all the nice hot tea or sip ice cold beer. Exactly 90 minutes is the time I got to spend here out of the ten days I traveled in Sri Lanka.
I was not exactly sure at first because I made it a point to travel to only heritage sites. Besides, the problem with traveling to North Sri Lanka is that it is hot. People usually take a train from Kandy straight to Ella, a resort town up in the mountains of Central Sri Lanka.
I added Nuwara Eliya in my list but I wanted to visit there only when I had time. When I got to Nuwara Eliya did I realize that I could have stayed here for couple more days. It was when I stayed at Clock Inn at Kandy, I met people who said they just came back from Ella, or are going there in the morning.
If you do not have the time to head out to the hills, then you decide to spend  little time in this little town called Nuwara Eliya anyway.
Places to See in Nuwara Eliya
Here are few places to see in Nuwara Eliya:
Gregory Lake
A clean and beautiful lake with walkways, peddle boats, play area for children, horse rides, and food stalls. There were people taking rides on horses and in the boats.
Back then a British bloke named Gregory turned the swamp area into a beautiful lakes with a little dam, and lots of fish which invited trout fishing. Today this is a tourist trap which otherwise is a quaint little town with little noise and traffic.
Sita Amman Temple
Sita, the wife of Lord Rama does not have many temples dedicated to her. But this one is an exception. Devotees throng to this place to see the supposed footprints of Lord Hanuman, and the water in which Sita bathed.
A rickshaw driver told me earlier that he could take me to Sita temple. This interested me. My aunt who had traveled to Sri Lanka a year before told me that she traveled to the place where Sita was held captive. She, my uncle, and few other people took a taxi to get there.
She, my uncle, and few other people took a taxi to get there. When they got to the place and found the spot where Sita sat, there was a sudden drop in temperature. I Googled it, and found the place to be Hakgala garden in Sita Eliya near Nuwara Eliya.
Visit the Hakgala Botanical Garden
This garden was built in 1861 to cultivate Cinchona, a commercial crop at that time. By 1884 it became a garden it is now. It might be the highest botanical garden in the world. The Ashok Vatika, that Sita was held in is supposedly here.
Stay at the Pedro Tea Estate
There are many tea estates here. The Pedro tea estate has a factory, and a homestay. You get a tour of the factory if you homestay with them. It is on the way from Nanuoya to Nuwara Eliya. There is a bus stop there.
Shop at the Markets
The most popular market in Nuwara Eliya is the Bale Bazaar also called Winter Market. Nuwara Eliya is cold most days of the year and the winter clothes are available in that market. Just head out to the market and you can watch how they try to sell stuff to you.
What else is there are numerous parks in town. One of them is the Victoria Park spread out on 27-acres of land. A nice place for birdwatchers. The whole town has old colonial era buildings. The post office is in a 1894 Tudor Manor and is the oldest post office in the country.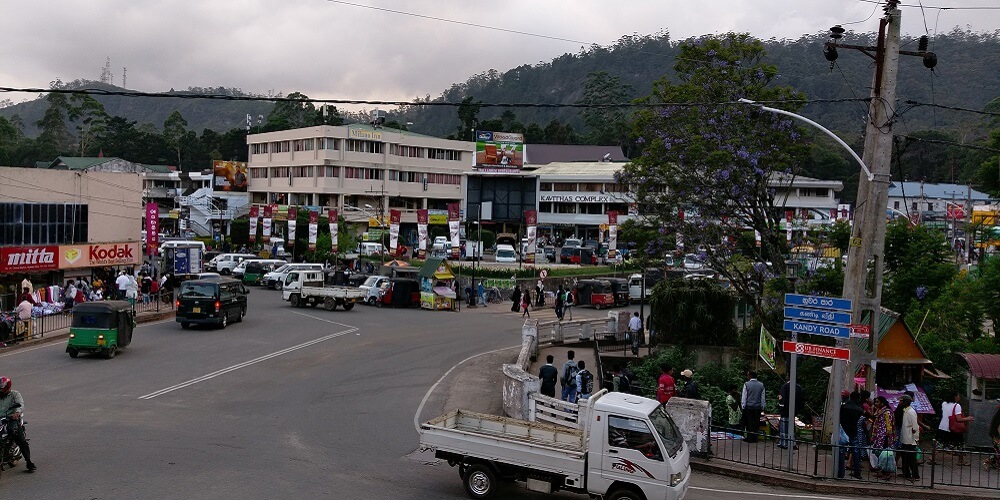 Train to Nuwara Eliya
It is just 80 KM from Kandy accessible by a slow train, the best way to get there. The previous night two German tourists invited me to join them on their journey to Ella.
'I'll think about it', I said. The journey to Ella is six hours. But Nuwara Eliya is shorter. In the morning I thought I should go to Nuwara Eliya instead of taking up the offer to go to Ella.
'Guys, I am going to Nuwara Eliya. I will not come with you.'
'Are you sure. Nuwara Eliya is on the way. You can come in the same train as us.'
'No go ahead. I'll take the 11 AM train.'
I went back to sleep, woke up at 10, then took the 11 AM train. Getting to the train station at Kandy, I paid LKR 160, the price for the 3rd class unreserved coach.
The train got crowded after it pulled into the station, but I got a seat at the front near a cafeteria. Most people were tourists, some going to the hills at Ella, few to Nuwara Eliya.
The British put this train from Colombo to Kandy, and to Ella through Nanuoya. Nanuoya is the train station to Nuwara Eliya. It is a slow train that runs on the Main Line of the Sri Lanka Railways.
The British built this line to transport tea to the market. I guess the Brits did not have to hurry at all. Many say this is the world's most beautiful train trip and I saw it firsthand.
The Trains
The Chinese built Blue Train departs from Kandy to Ella several times a day. There are 1st class air conditioned coaches that are the most comfortable. But they are in use only few times.
Few trains have only the open window 3rd class coaches, something a photographers would like to travel in.
There is a train with full service option, with observation decks. You can check out Exporail. You can book a ticket online, and buying a ticket in advance using the help of your hotel is also a good idea.
On their website, you can do a 360 view of the coaches you will sit in. They also have a television set in the train if you are bored of looking outside.
There are views on both the sides of the train. At times vendors come with snacks and drinks. It seems like Milo is a favorite beverage of Sri Lankans. I mostly see them drinking Milo on trains, and buses.
The short eats that vendors sell are usually spicy, shrimp vada, which is fritters with shrimps embedded on the top.
Nanuoya
As the train approached Nanuoya town, the weather became cooler. By this time I got the window seat, as the man sitting next to me, a policeman vacated the seat to resume his policeman duty.
Tea pickers were hard at work on the tea plantations, children waved at the foreign faces they saw through the window.
3:15 PM, the time when the train reached the station. Thanks to eager tourists who came to see Nuwara Eliya, the Nanuoya station emptied half of the train.
At the exit of the station, the taxi and rickshaws waited to pick up travelers. I was famished. I walked up the steep road in search of a restaurant while dodging rickshaw drivers.
There were shacks that served lunch, and buses waiting for commuters to the Nuwara Eliya town. If I had eaten lunch, I would not have bothered to walk up the road.
I had lunch for LKR 120 in a cafeteria that isn't even on Google maps. After lunch I boarded a bus to the town. There were only few people, so the bus waited for it to fill up while I sat there listening to Tamil songs that played in the bus.
Yes, Nuwara Eliya is a tea producing town. The Brits brought Tamil people from South India to work on the tea fields here. After independence, these people stayed and continued picking leaves.
The Tamil song became fainter when the bus roared to life and drove on the narrow road by the tea plantations.
It was 5 PM when the bus reached the bus station. I checked Google, there was a train back to Kandy at 11 in the night. There was a bus back to Kandy at 6:30. I'll take the 6:30 PM bus I decided. So, 90 minutes is all I had in this town.
5PM – Walk
I walked out of the bus station, hoping to glimpse the colonial bungalows I saw while on the bus. People wore woolen sweaters to stay warm. The cool weather was a great respite from the searing hot weather of Colombo and Jaffna.
The post office, and other offices was attractive giving you an impression of walking in a 19th century English town.
5:30 PM – Windsor Hotel
By 5:30 I walked till the attractive Windsor Hotel. There was an underground bar, but it was not well lit. So I went up the hotel to find the restaurant.
The restaurant was nice and had a balcony where there were already some tourists. I took a table, ordered Ceylon tea.
6 PM – Rickshaw Tour
After paying my bill, I exited the hotel, I was looking around and deciding where to go next. Just then a rickshaw stopped beside me.
'You Indian?'
'Yes'
'I will take you to Sita temple.'
'Yes, I want to go there. How far is it from here?'
'Half an hour journey, we go to temple, and come back within two hours.'
'Oh I don't have that much time. Just drive me, show me some nice places, and then drop me off at the bus station at 6:30. I have to go back to Kandy.'
'No problem', he said.
We drove few kilometers from the center of the town to the Gregory Lake. After Gregory lake, the rickshaw driver took me around the market area, the golf course, stopping at places to take pictures. Then I decided it was time to go to the bus station.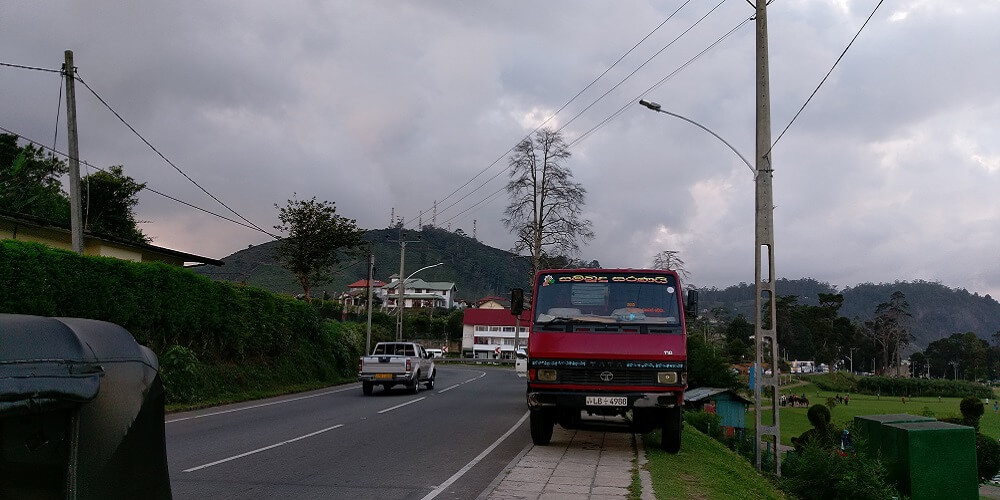 Bus from N. Eliya to Kandy
I decided it was time to go. I already started missing Nuwara Eliya. The rickshaw driver dropped me off at the bus station at 6:30PM, all this for LKR 200.
'Kandy?, I asked an official.
'Antima bus (last bus)', he said pointing at a minibus which was about to pull out of the station.
Luxury is the word advertised for this bus. Why? It was air conditioned, and costed LKR 220 for the ride, a little more than normal buses. It was a small and crammed.
I got a last seat by the window. I could not even move my hands. The bus option is quicker because you do not have to travel to Nanuoya to take the train. The bus drove through the scenic route but it was getting darker.
I don't know when I slept, but I woke up when the bus almost reached Kandy. I was glad I took this journey, and made a mental note to come back and stay here longer.